Online Cued Articulation Course


In order to enable more people to access Cued Articulation training, I have converted my course into an online version with lots of videos and interactive games and exercises.

Click on the video on the right to hear Jane Passy >




---
There are two versions:



One for teachers who mainly teach students whose first language is English, and

One for teachers who also teach students whose first language is an Aboriginal language.
The course follows the pattern of my classroom course and is split into 10 modules (11 for the Aboriginal course). It should take around 6 hours to complete. However, the value of an online course is that you can complete it at your own pace and convenience. I suggest that you set a plan for completing the course in no more than 3 weeks in order to get the best benefit from the sequential nature of the instruction. However, your login will be available for three months or until 15 March 2022, whichever comes sooner. You can download a completion certificate at the end of the course.
System requirements:
The course player will run on most recent Windows or Mac operating systems. However, module loading difficulties can occur using Internet Explorer. For Windows users we recommend
using Chrome or Firefox. Please ensure that you have the latest version of Flash and Firefox, or Chrome loaded on your computer. The system does not run well mobile devices.
---
The courses are $170 per person for those with an Australian mailing address.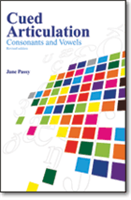 A Cued Articulation Consonants and Vowels book
is included and will be posted to you.


The courses are $175 per person for overseas applicants to cover the extra postage.


---

Payment can be made on the elearning site by credit card.
Or we can provide an invoice for EFT payment after registering on the elearning system
Click here to register

---
For schools wishing to enrol several teachers, for special discounts and bulk enrolment
Click here for more information

---
I provide a PowerPoint
Presenter Package
for Speech Pathologists who wishing to run their own courses for teachers.
---
The modules are designed to be completed in sequence. As are the slides within a module. The system will not allow you to move on to the next module until you have viewed all the slides in a module.
Also please complete the feedback forms so that I can continue to improve the course.
For more information about the course click here


---
Online course closure has been delayed until further notice

Due to major software update requirements and pending retirement, it was planned to shut the online course down permanentl. However, this has been postponed until further notice. The course is now also available to Speech Pathologists on PowerPoint for delivery to teachers in classroom courses.